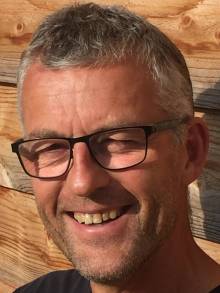 Frank Glorie
Frank Glorie DVM
Frank Glorie studied veterinary medicine and worked as veterinarian in large and small animal practice for almost 30 years . The last 10 years he focussed on the sheep business. He worked as an consultant and veterinarian for sheepfarmers only, in the Netherlands and abroad, under the name of Schapendokter.nl.
In this timeframe he wrote many articles for the Dutch sheepfarmers magazine ' Het Schaap' and presented lectures and workshops to educate sheep farmers. He also wrote the book Sheepsignals , a compilation of practical tips out of the field, collected in 10 years working as sheep veterinarian and sheepbreeder. The book is now available in 4 languages (Dutch, Swedish, English and Ests).
After selling his veterinary sheep practice he bought an 80 hectare farm (www.nolaine.eu) near the Pyrenees, together with his partner Monique. There they breed Easy Care sheep, cachemire goats and working dogs. Their farm is building up to be a diversified, regenerative agricultural enterprise. Sheep are still the core business in a natural, low cost environment.
He also works as a consultant abroad (Germany, Azerbidjan,Russia, Georgia) at large sheep related projects. He is still up and available to new projects and ideas to expand his knowledge and experience in the sheep world.