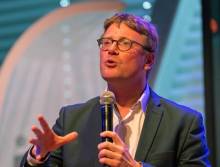 Maarten de Gussem
Maarten De Gussem, DVM
Global Poultry Consultant
Academic Adviser Faculty of Veterinary Medicine
University of Ghent, Department of Pathology, Bacteriology and Avian Diseases
Maarten De Gussem graduated as a DVM from University of Ghent Veterinary School in 2000 with a thesis on Infectious Bursal Disease Virus at the University of Arkansas, USA.
He began working in the field at DEGUDAP group practice in France, The Netherlands and Belgium, dealing with layers, breeders, broilers and turkeys. In 2001, Maarten joined the division of J&J Global Poultry Technical Manager at Janssen Animal Health, with focus on coccidiosis, gut health, helminthosis, histomonosis and red mite.
In 2009, Vetworks was founded by Maarten, servicing the poultry industry with a global team of specialists and providing support on poultry health topics all over the world, with focus on mycoplasmosis, general gut health and coccidiosis.
Besides his work at Vetworks, Maarten is also an academic adviser at the Faculty of Veterinary Medicine at Ghent University. And a member of scientific committees of Poultry Mycoplasma Conference and of IHSIG Conference on Poultry Intestinal Health.
Maarten De Gussem is also author of Broiler Signals, a leading broiler management book in more than 12 languages.
Portfolio
Author