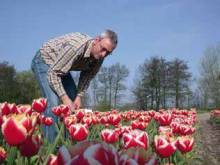 Cor Conijn
In Tulip diseases, you will become familiar with all the diseases, disorders, and infestations that I have encountered in my role as a consultant during recent decades. My intention with this book is to offer a modern
reference for everyone involved in bulb growing, tulip forcing, or planting parks and/or gardens.
My motivation for writing is the desire to share my knowledge. I am the son of a bulb grower and have pursued an education in horticulture, followed by specialisation in flower bulb diseases, disorders, and infestations, spending more than forty years in the field of bulb research and information. I started at the Laboratory for Flower Bulb Research, which later became Wageningen Plant Research, in Lisse (part of Wageningen University & Research), and then worked at the International Flower Bulb Centre in Hillegom. I now work from my consultancy, FlowerFull Consultancy.
I hope that the up-to-date knowledge to be found in Tulip diseases will be helpful for you in the rapidly changing world of crop protection and bulb growing. The book is set out in an 'expert system' format. You can search it quickly, according to the growing phase, and I start each section with the most common diseases or disorders. And if you already know the name of the suspected disease, you can find it quickly through the index and disease tables.
I hope this book will offer you the information you need for an optimum approach to tulip diseases.
Portfolio
Author
Tulip diseases