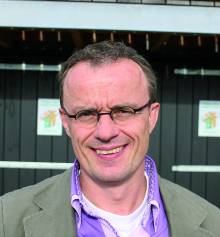 Jan Hulsen
Jan Hulsen, DVM, MBA
Jan Hulsen grew up on a farm with dairy cattle and pigs. He began studying agricultural science and then switched to veterinary medicine. 'After three years working as a farm vet, with great pleasure, I started to focus on education and consultancy'. To that end, he became involved in journalism, marketing and business management.
With his company Vetvice, Jan developed the CowSignals® concept, and wrote the successful CowSignals books series.
CowSignals is active in more than 30 countries, with lectures and training in the fields of CowSignals, Hoof Health, Udder Health, Reproduction, Young Stock Signals, Dry Period and Transition, Robotic Milking, Barn Design, and Feeding Signals.
Vetvice focuses on dairy farm management. A combination of care for both animals and humans and for productivity are central themes. Vetvice consults dairy farms in the fields of production management, nutrition, housing, labour efficiency, team work, reproduction and animal health.
Portfolio
Author
· Cow Signals
· Cow Signals Checkbok
· Cow Signals posters
· Fertility
· Udder Health
· Hoof Signals
· Young Stock Signals
· Feeding Signals
· Dry Period, Special nedds cows and treatment
· Building for the cow
· Robotic Milking
· Economics & Milking
· Cow Signals Seasonal Grazing
· Cow Signals Advanced – East African edition
· Cow Signals Basics – East African edition
· Udder Health – Large herd edition
Co-author/editor
· Horse Signals
· Pig Signals
Signalen®-concept
· Poultry Signals
· Sheep Signals
· Finishing Pigs & Health